In my last "Food Choices" post, I was talking about Idaho potatoes…. The potato industry is actually in Southern Idaho, whereas when I lived there in my youth, our family was in Northern Idaho (a place for which a whole post in itself can be written). This time was extremely formative and inspiring to help me lay the foundation for my current work.
COMMUNITY
The college where I started school was the University of Idaho, in the wonderful small town of Moscow.  This thriving community based on agriculture (lentils in particular) was my first real adult experience of community, especially the Moscow Food Co-op,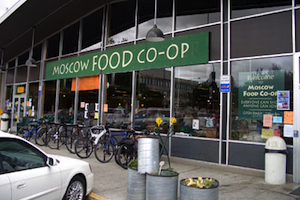 the Renaissance Fair, the Micro Movie House that featured foreign films (now gone), Mikey's Gyro's where I learned to make Greek Food, and BookPeople, the coolest book store ever.  I also worked at an artsy place called Cafe Spudnik (the owner was a Russian-American living in Idaho), where as a waitress, I first ate Italian-style pizza with kalamata olives, artichoke hearts, and pesto, drank espresso, and thus, with the owners commitment to "the freshest ingredients and no preservatives" had my palate forever changed.
I believe firmly in the role of community in many ways, including banking, shopping, and for health reasons too, which I strive to incorporate into my public cooking classes.
EDUCATION
At the university,  I had a dual major, part of which was English, and ended up in a class called The Literature of Horror taught by Michael Delahoyde. He had these really inspiring, outrageous, and mind-stretching classes where he taught from a critical and radical feminist viewpoint about vegetarianism in the classics, such the harpys in Greek mythology, which first introduced me to the concept of vegetarianism.  He was passionate about this topic, and as I stared at his long curly hair and listened to him talk about the female characters getting mad at people eating meat, I guess you could say it made an impression. It was around the same time that I was taking a Women's Studies class and was introduced to Carol Adam's book called The Sexual Politics of Meat.
To fully give her book justice, I'll share what she says on her website:
"Behind every meal of meat is an absence: the death of the animal whose place the meat takes. The "absent referent" is that which separates the meat eater from the animal and the animal from the end product. The function of the absent referent is to keep our "meat" separated from any idea that she or he was once an animal, to keep something from being seen as having been someone.
Once we recognize how the absent referent functions, we can immediately see two things – women are made absent referents in our culture, too. And, our culture links oppressions and intensifies them, too. Theory is important because it helps us understand the way oppressions become interconnected.
In The Sexual Politics of Meat and The Porngraphy of Meat, I show how animals are consumed literally and how women are consumed visually and through sexual access to our bodies. The same process of objectification and fragmentation is at work." Carol Adams
It's within the industrial food system where we see this in action. Animals become cuts of meat:
And so do women:
From this viewpoint, women are not seen as whole people, but rather are objectified as parts, like "T & A".
Is there any surprise that breasts are bigger on chickens nowadays?
In the photo below, a woman is on the menu.  We don't see her (hence the concept of an absent referent) – just one of the "cuts" that men so love.
This is not as uncommon as one would think…. For example, on my way to my favorite beach, I drive by a food truck that sells BBQ. In front of the truck is a scantily-clad mannequin and the words "spare ribs" directly behind her. (Next time I go to the beach I'm going to stop and take a picture of this.)
The industrial food system exploits the environment, animals, and minorities for profit, and this way of thinking is inherent in sexism as well. This mentality is all born from the same way of thinking and viewing the world.